Doublestack
The fastest most efficient Energy Star qualified commercial restaurant steamer on the market today.


Benefits
Fast
Powerful 14KW heater for high production batch cooking.
Reliable
Heater is not exposed to mineral buildup. Simple boilerless design easy to clean and easy to service.
Efficient
Energy star qualified. Uses less than 1 gallon of water per hour. Saves thousands in water and electricity when replacing boiler units.
Even Cooking
Steam is directed over each pan for more even cooking.
Quick Recovery
Open and shut the door and the cooking chamber fully recovers in less than 10 seconds.
Lifetime Tech Support
Call the toll free number on the steamer for free technical support for the life of the steamer.
Quality Construction
The highest quality components and materials are used in the manufacture of the Steam Pro.
Affordable
Factory direct pricing. Cut out the middle man and save thousands $ per unit.
Features
Cooking Capacity for up to six 12"x20"x2.5" deep Steam table pans.
Includes bullet feet, 6ft power cord and plug.
304 Stainless Steel Construction.
Mirrored finish interior.
UL listed.
Energy Star Qualified.
NSF approved hold feature with adjustable thermostat.
Heavy Duty door, door latches, door handle and door seal.
14 gauge stainless cooking chamber.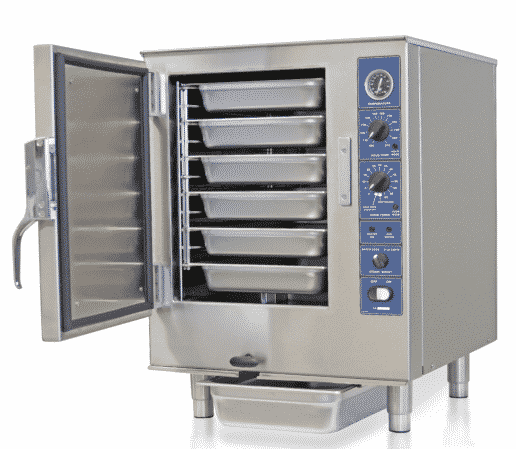 Included
Bullet Feet
Adjustable Hold Feature
6 ft. Cord
NEMA Plug
One Year Parts & Labor Warranty
Connectionless – No Plumbing
Why Choose the Sterling Steamer?